Franklin & Marshall cruised to a 52-7 victory over Juniata in Centennial Conference (CC) football action on Saturday afternoon at Sponaugle-Williamson Field. The Diplomats improved to 2-0, 1-0 CC while the Eagles dropped to 1-1, 0-1 CC. enjoy the first half highlights.
F&M scored on its first possession when Tanner Erisman scored from a yard out at 10:07 in the first quarter. Juniata countered on its next series with a 7-play, 55-yard scoring drive for their only touchdown of the game to make it 7-7 with 6:27 left in the first. Fortunato Perri put the Diplomats ahead for good when he hauled in a 16-yard pass to finish off a 65-yard drive that put F&M out front 14-7 with under a minute left in the first.
Kevin Lammers put F&M in excellent field position when he returned a punt 40 yards to the Juniata 25 at the start of the second quarter. Four plays later Erisman hit pay dirt from seven yards out to make it 21-7. On the ensuing kickoff, Juniata fumbled, and K.J. Boston fell on the ball at the Eagles' 16. The Diplomats took just three plays to score when Taalib Gerald scored on a 12-yard run to make it 28-7. Gerald tacked on another score on the Diplomats next series to put F&M out front 35-7, which stood as the halftime score.
Drew Tomlinson made it 38-7 on a 21-yard field goal midway through the third, before K.J. Pretty raced 73 yards for a touchdown with 4:40 left in the third to make it 45-7. The Diplomats tacked on their last points when Taylor Collison was initially stopped at the line, but bounced to left and raced 61 yards for a score to give F&M a 52-7 edge.
Tanner Erisman completed 21-of-25 passes for 312 yards and two scores and added another 48 yards on 10 rushes with another pair of touchdowns. K.J. Pretty led the wide outs with 208 yards on eight grabs with one touchdown. The 208 yards was the fifth best-receiving performance in program history.
Taylor Collison racked up 83 yards on four runs with one touchdown, Taalib Gerald had 57 yards on the ground with two scores, and Nick Leone finished the day with 44 yards on two carries.
Ben Okun led the way on defense with six solo stops while Marlin Fenstermacher and Frank McGlinchey finished with four stops each. Stevie Gerovasilis had three stops with one interception, Bobby McDevitt recorded three tackles, two for a loss, while Dylan Jones, Joe Granahan, and Jackson Hale all finished with two sacks. Vincent Speranza had a sack and a fumble recovery for the Diplomats.
Franklin & Marshall junior defensive lineman Joe Granahan was named the Centennial Conference (CC) Defensive Player of the Week announced on Sunday. The honor is first for both Granahan and a member of the F&M football team this season.
Granahan led a Diplomat defense that held Juniata to just 90 yards in the first half and 203 overall in a 52-7 victory against the Eagles. Juniata entered the game averaging 42 points per contest. Granahan had two sacks, forced a fumble and broke up a pass.
F&M returns to action on Saturday when the Diplomats host McDaniel at 1:00 p.m.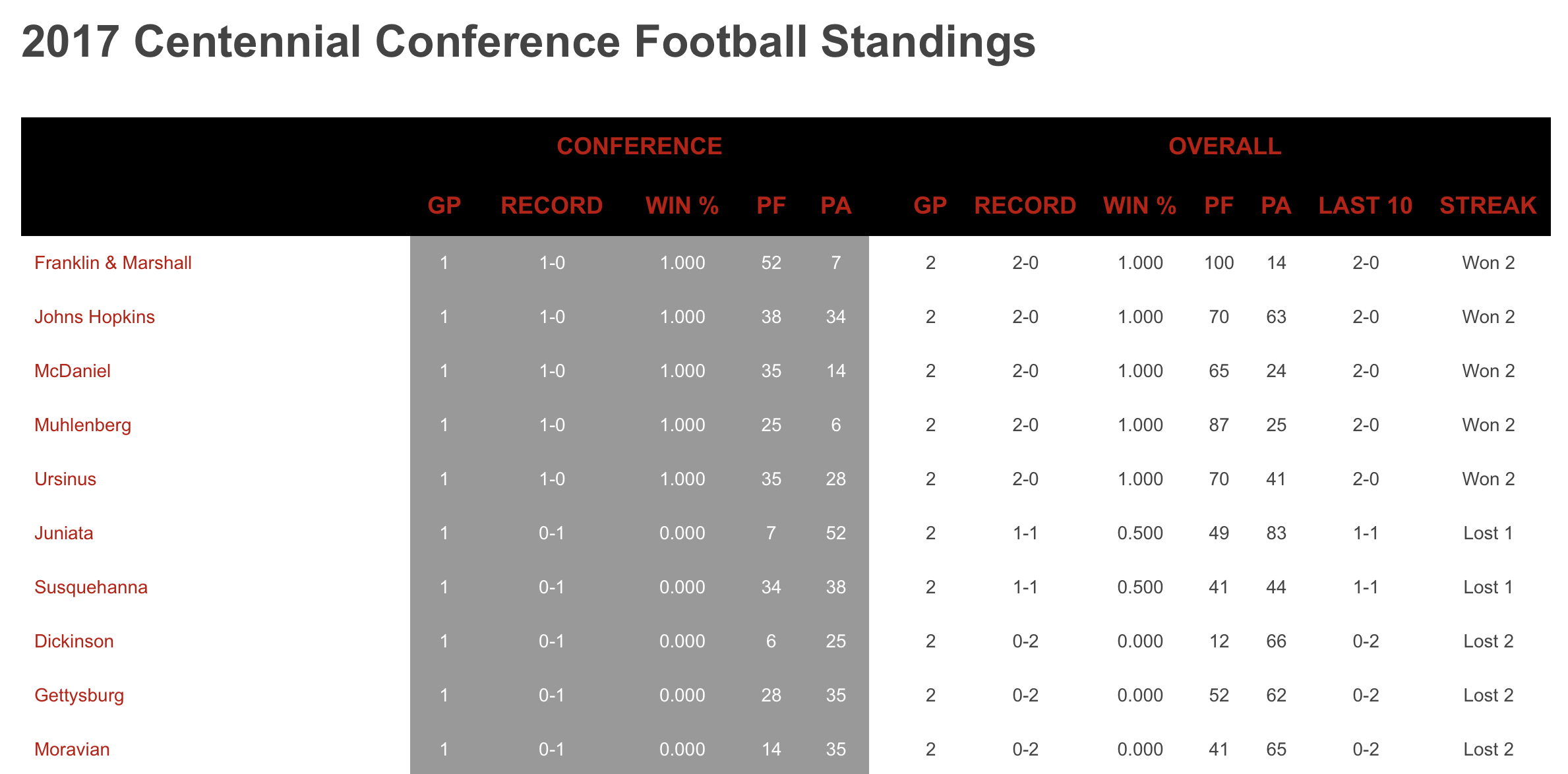 .