The boys and girls individual golf champion titles for the L-L League were crowned yesterday at Tanglewood Manor Golf Club.
Addy Deery of Manheim Township won the girl's individual title by shooting a 79 and Dom Oliveri of Conestoga Valley won the boy's title with a score of 70.
Oliveri made just two birdies, but parred the other 16 holes to finish with a 2-under 70.
Oliveri's birdies were on the par-4 No. 3 and the par-3 No. 13.
Tying for second behind Oliveri were Ephrata's Matt Kreider and Manheim Twp.'s Jacob Macinanti, who were both 1-under.
Deery was 8-over after six holes. But she parred her last three holes on the back and played the front nine in 1-under.
It was quite a turnaround. From 44 on the back to 35 on the front.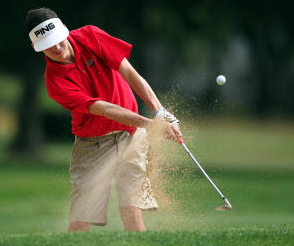 Here are the District 3 playoff qualifying golfers and their scores from yesterday:
AAA Boys
Dom Oliveri, Conestoga Valley – 70
Matt Kreider, Ephrata – 71
Jacob Macinanti, Manheim Twp. – 71
Patrick Neslund, Manheim Twp. – 72
Christopher North, Manheim Twp. – 73
Jack Marchant, Manheim Twp. – 74
Tim Bomberger, Cedar Crest – 76
Trey Kuntz, Manheim Twp. – 76
Sam Beauregard, Manheim Twp. – 77
Ethan Cairns, Solanco – 78
Brady Erb, Penn Manor – 78
Nate Brown, Penn Manor – 78
Owen Miller, Conestoga Valley – 78
Cory Peck, Hempfield – 79
Evan Dissinger, Cedar Crest – 79
Cody Tobias, Elco – 79
Peter Chieppor, Manheim Twp. – 80
Noel Veitch, Conestoga Valley – 80
Walker Kirk, Manheim Twp. – 80
Justin Hertzog, Warwick – 81 (alternate)
Charles Waleski, Manheim Twp. – 81 (alternate)
AA Boys
Thomas Moran, Lancaster Catholic – 78
R.J. VanTash, Lancaster Catholic – 78
Thomas Bird, Lancaster Catholic – 81
Sean McNamara, Lancaster Catholic – 81
Will Riva, Lancaster Catholic – 82
Collin Green, Lancaster Mennonite – 86
Tyler Schrader, Annville-Cleona – 88 (alternate)
AAA Girls
Addy Deery, Manheim Twp. – 79
Allison Appleton, Penn Manor – 87
Ellen Wager, Manheim Twp. – 89
Lauren Moyer, Ephrata – 93
Erica Corey, Manheim Twp. – 99
Kathryn Pelensky, Warwick – 104
AA Girls
Grace Stillman, Lancaster Mennonite – 79
Lauren Bird, Lancaster Catholic – 86