For the seventh year in a row the Hempfield Black Knights Girls' Volleyball team have won the L-L League Title. They beat Garden Spot 3-0 (26-24, 25-14, 25-21) at Manheim Township.
This is the 13th time in 14 years they have won the title and in the past 23 years they have been in the finals for 19 of them.
The Spartans played Hempfield very close in the first set and led 24-23 but three Hempfield kills brought the Black Knights a first set win.
The Black Knights served 18 aces to dominate play with libero Bri Tankesley serving eight of them. Hempfield's Sonia Musso had 13 kills in the match.
The Spartans (17-2) were without the services of starting middle Abbey Good who was injured in the semifinal winning match against Warwick.
Next up for Hempfield is District 3 play Saturday against Warwick 4:30 at Penn Manor. The Black Knights are the reigning AAA champs.
INTERVIEWS: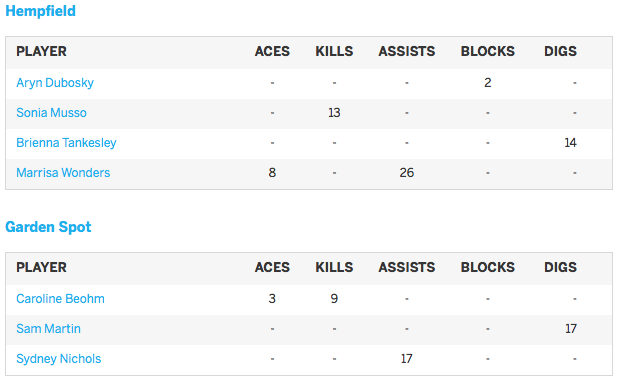 Final Standings:
Section One:

Section Two:

Section Three: