It's official, the L-L Golf League coaches have voted Manheim Township's Addy Deery as Female Golfer of the Year.
As well as Ephrata senior Matt Kreider as the league's Male Golfer of the Year.
Addy:
Matt Kreider's finished the six tournament season with a Section One-best average of 75.4. He was the medalist in two of those tournaments, after finishing with a 72 at Foxchase in August and a 68 at Overlook in September.
In the postseason, Kreider finished a stroke behind Conestoga Valley's Dom Oliveri at the league tournament. He tied for fifth at the District Three AAA Tournament, shooting 3-over, and tied for 11th at AAA regionals with a 4-over 76. He also played in the PIAA AAA Tournament.
Addy Deery shot a 7-over 147 in the District Three Class AAA Tournament and finished one stroke behind winner Julianne Lee of Central York. She finished tied for 10th in the PIAA East Regional and in the PIAA AAA tournament finished 15th. She was the L-L League Girl's Title winner as well.
Final Standings in the L-L League for 2015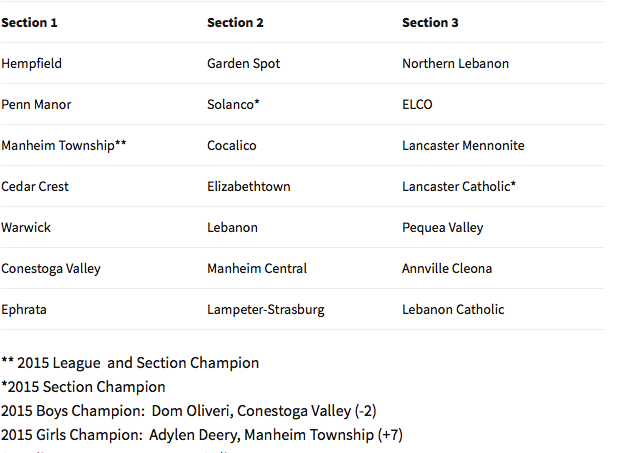 SECTION TWO
Ethan Cairns (Solanco, Sr.) 79.0
Jake Groff (L-S, Sr.) 82.7
Dan Fieger (Cocalico, Sr.) 82.9
Blake Hallman (E-town, Sr.) 84.1
Scott Stephens (E-town, Sr.) 84.6
John Rush (Solanco, So.) 86.1
Cole Halpin (Garden Spot, Jr.) 86.6
Honorable Mention
Drew Sawyer (Cocalico, Jr.), 87.3; Mike Saldino (L-S, Sr.), 88.7.
SECTION THREE
Will Riva (Lanc. Catholic, Jr.) 78.3
Thomas Bird (Lanc. Catholic, So.) 75.9
Tom Moran (Lanc. Catholic, Sr.) 74.7
RJ VanTash (Lanc. Catholic, Jr.) 84.1
Cody Tobias (Elco, So.) 83.3
Grace Stillman (Lanc. Mennonite, Jr.) 83.1
Honorable Mention: Lauren Bird (Lanc. Catholic, Jr.), 81.9; Ryan Woefling (Elco, So.), 84.9; Kyle Rosengrant (Elco, Sr.), 88.6; Tyler Schrader (A-C., Sr.), 93.1.