Will Betancourt of Manheim Central won the District 3, 106 pound wrestling title in January 2017. He was not taken down in the entire tournament. His freshman season was one of the best in Barons' history. He finished the regular season 29-2 record. He also won the Section Two title.
Here is a recap of who captured the L-L League individual titles for 2017.
Pequea Valley sophomore Gabe Miller and Manheim Central freshman Will Betancourt were among the Lancaster-Lebanon League's most talked about grapped at Garden Spot High School.
Betancourt signaled the start of championship Saturday with a furious performance against defending 106-pound champion Austin Jones of Ephrata.
Betancourt didn't need long to calm his nerves, pinning Jones in 1:38. Earlier, the Barons newcomer defeated Northern Lebanon's Kyler Anspach 15-0.
"I practiced with him but never wrestled him in a live match before," Betancourt said. "I was a little nervous going into it but I had to keep my mind right and wrestle my match. I might be very aggressive but I'm calm. I'm always ready to wrestle."
Miller, meanwhile, had to follow a sterling performance by his PV teammate, 126-pounder Tanner Ball, who scored a 9-1 decision over Cocalico's Nate Fritz.
Miller would eventually extend his unbeaten record to 28-0 with a victory over defending champ Trevor Leonard of Northern Lebanon.
"I just kept going," Miller said, noting his 17-2 major. "It's nice to have [Ball] to warm up with before the finals. We workout together and I think that makes us both better."
While Northern Lebanon picked up another team title, Cocalico's Ben Fromm (195) and Josiah Gehr (113) earned top medals to move the Eagles into the runner-up spot at 230 points.
"Cocalico has a super nice team," said Northern Lebanon coach Rusty Wallace. "They medaled 12 guys so they had a really strong tournament."
Title winners Evan Clark (220) and Ryan Stewart (285) claimed championship medals for Warwick, while Garden Spot's Gary Clark put a charge in the partisan crowd by defeating Solanco's Grayson Charles 6-2 at 138.
L-L Wrestling Tournament Finals
106: Will Betancourt, Manheim Central p Austin Jones, Ephrata, 1:38
113: Josiah Gehr, Cocalico dec. Cameron Terry, Ephrata, 7-0
120: Jared Loose, Hempfield dec. Colin Leonard, Northern Lebanon, 9-7
126: Tanner Ball, Pequea Valley dec. Nate Fritz, Cocalico, 9-1
132: Gabe Miller, Pequea Valley md Trevor Leonard, Northern Lebanon, 17-2 (5:49)
138: Gary Clark, Garden Spot dec. Grayson Charles, Solanco, 6-2
145: Pavel Dariychuk, Conestoga Valley dec. Connor Finkley, Garden Spot, 5-1
152: Blaise Bressler, Northern Lebanon p Trent Martin, Conestoga Valley, :35
160: Jonah Barley, Penn Manor p Jose Lao-Cooper, Manheim Twp., 1:55
170: Ben Root, Solanco p Carlos Lugo, McCaskey, 2:59
182: Luke Funck, Northern Lebanon p Logan Boring, Warwick, 1:03
195: Ben Fromm, Cocalico dec. Josh Weder, Solanco, 12-4
220: Evan Clark, Warwick dec. Hunter Wallace, Northern Lebanon, 7-3
285: Ryan Stewart, Warwick dec. Brady Maxwell, Cocalico, 3-1 SV
Jarod Loose (left) of Hempfield defeats Colin Leonard (right) of Northern Lebanon in the 120 lbs class at the Lancaster-Lebanon wrestling championships at Garden Spot High School in New Holland, PA on January 28, 2017.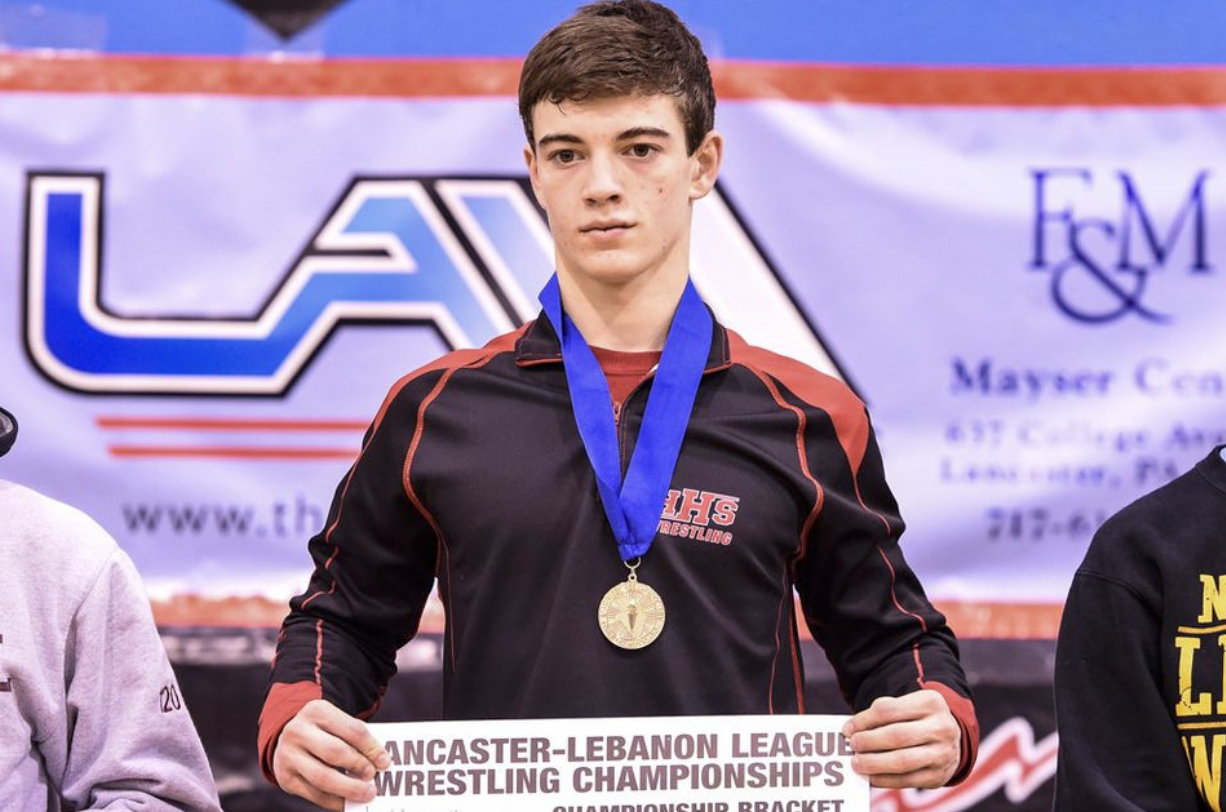 Jarod Loose of Hempfield poses with his medal after winning the 120 lbs class in the Lancaster-Lebanon wrestling championships at Garden Spot High School in New Holland, PA on January 28, 2017.