If you are going to play the Elizabethtown Bears, you had better bring some pitching. Today they beat the Lampeter-Strasburg Pioneers 12-4 on the road. This is now a total of 38 runs they have scored in their last 3 games.
Today's game was played in what you might call "not perfect baseball weather" but at least it wasn't windy and snowing. It certainly didn't hurt the Bears, who erupted for seven runs in the second inning on its way to victory.
Everyone chipped in as Cayden Livingston, Cole Livingston, Austin Denlinger, Chad Caley, and Ryan Rupp, all drove in runs in the frame.
This team is good. They are disciplined. They make the pitcher throw a lot of pitches. They wait for the pitch they can hit and they hit it. They take the extra base when it's given to them.
They play smart defense too. They pulled off two double plays today. One by the pitcher that shut down a bases loaded Pioneers' second inning rally. That's why they are 5-0 in league play and in first place in Section Two.
The Bears' starting pitcher Cole Patrick pitched a complete game. The tall drink of water must be at least 6'3″ and he was in command most of the day. He went the full seven innings, allowing four runs on 11 hits and striking out two. "Pitching with a 7-run lead is something I like," he said. Yeah who wouldn't? Sandy Koufax?
Aaron Snyder took the loss for Lampeter-Strasburg. He lasted one and two-thirds innings, allowing five hits and six runs while striking out two and walking one.
Elizabethtown Bears Varsity totaled 12 hits. Rupp, Livingston, Patrick, and Nick Kreider all managed multiple hits for Elizabethtown Bears Varsity. Kreider, Patrick, Livingston, and Rupp each collected two hits to lead Elizabethtown Bears Varsity.
Lampeter-Strasburg tallied 11 hits in the game. Hunter Cunningham and Byler all collected multiple hits for Lampeter-Strasburg.
Last season the Bears won the Section Two title with a 12-4 record, 16-5 over all. They made it to the L-L League semifinals and District Three Class 5A first round.
Here are some Cole Patrick pitching sequences including the play of the game, a 1-2-3 to double play with bases loaded.
Interview Cole Patrick winning pitcher:
Interview Austin Denlinger:
Interview Bill Templin Bears' Head Coach: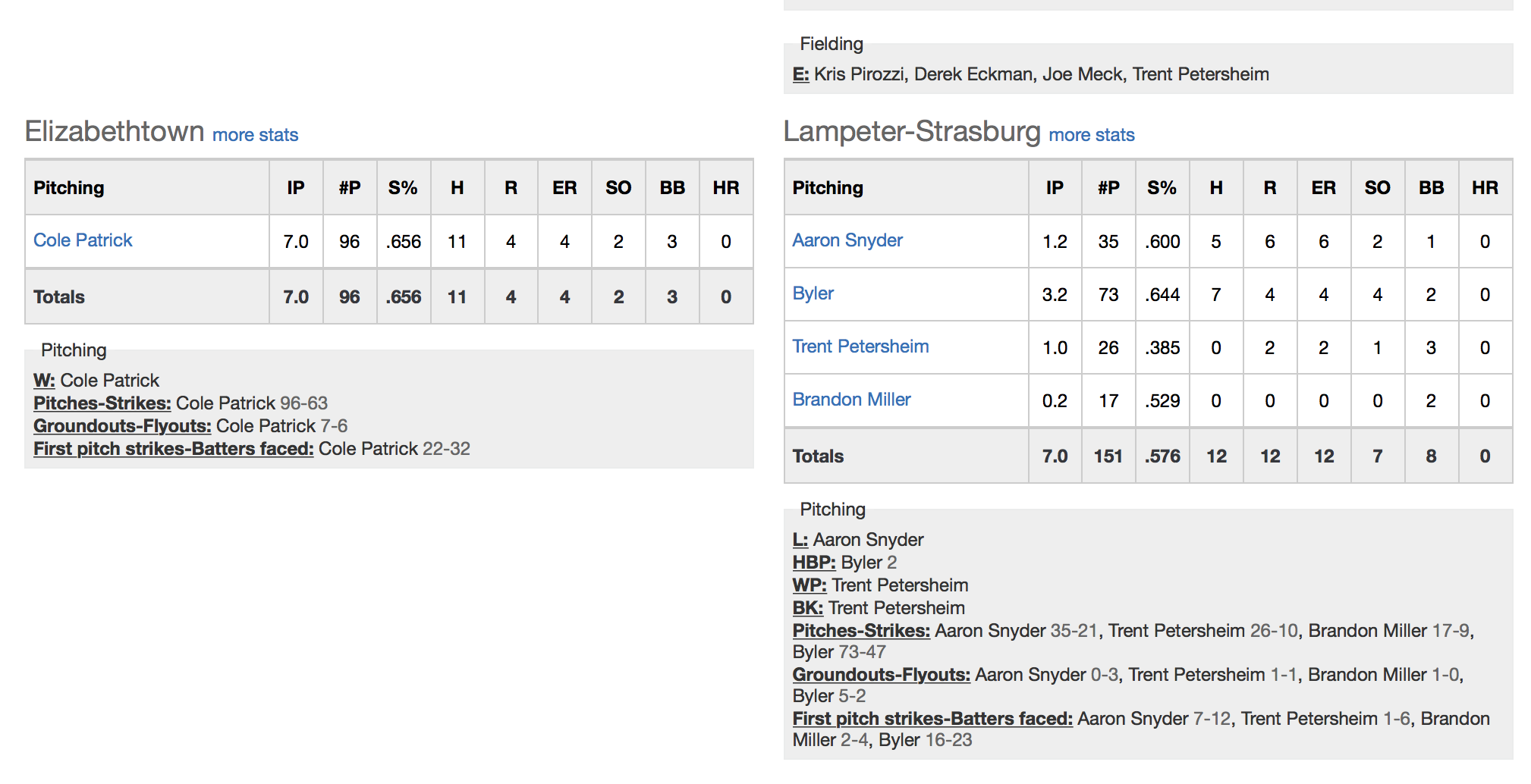 >