The Lancaster Catholic Crusaders have won their first state baseball title ever. They did so by defeating the South Side Beavers 5-1 in the class 3A final at Penn State's Medlar Field.
This was only the Crusaders' 4th appearance in PIAA tournaments and they won this by having Dillon Marsh on the mound.
If you had never seen Marsh pitch, this was was good a game as any to see how he goes to work.
Today he had a bounty of riches with an economy of pitches.
He threw 19 first strikes to the 24 batters he faced. He surrendered only 5 hits and walked no one.
Marsh, the U of Kentucky recruit also had two hits in the championship win.
He allowed a seventh-inning run, while winning his ninth victory of the season on 90 pitches.
As for the Crusader offense, Cam Barto (2-for-4), stole home for LC's initial run in the top of the first, and Rigo Hernandez (two runs) paced Ty Book's offense.
Third-inning singles by Alex Kukic and Dylan Pawlowicz plated two more runs for the Crusaders (20-5), more than enough for the game-winning southpaw.
Marshal Windsor drove in South Side's lone run. The Rams (17-6), making their first PIAA tournament appearance since 2000, got two hits from Alex Jones.
Crusaders' Head Coach Ty Book said it best when asked about Marsh. "He gives all of us all the confidence in the world that we will win when he is on the mound. I'm gonna miss him something terrible. What a great job he did today."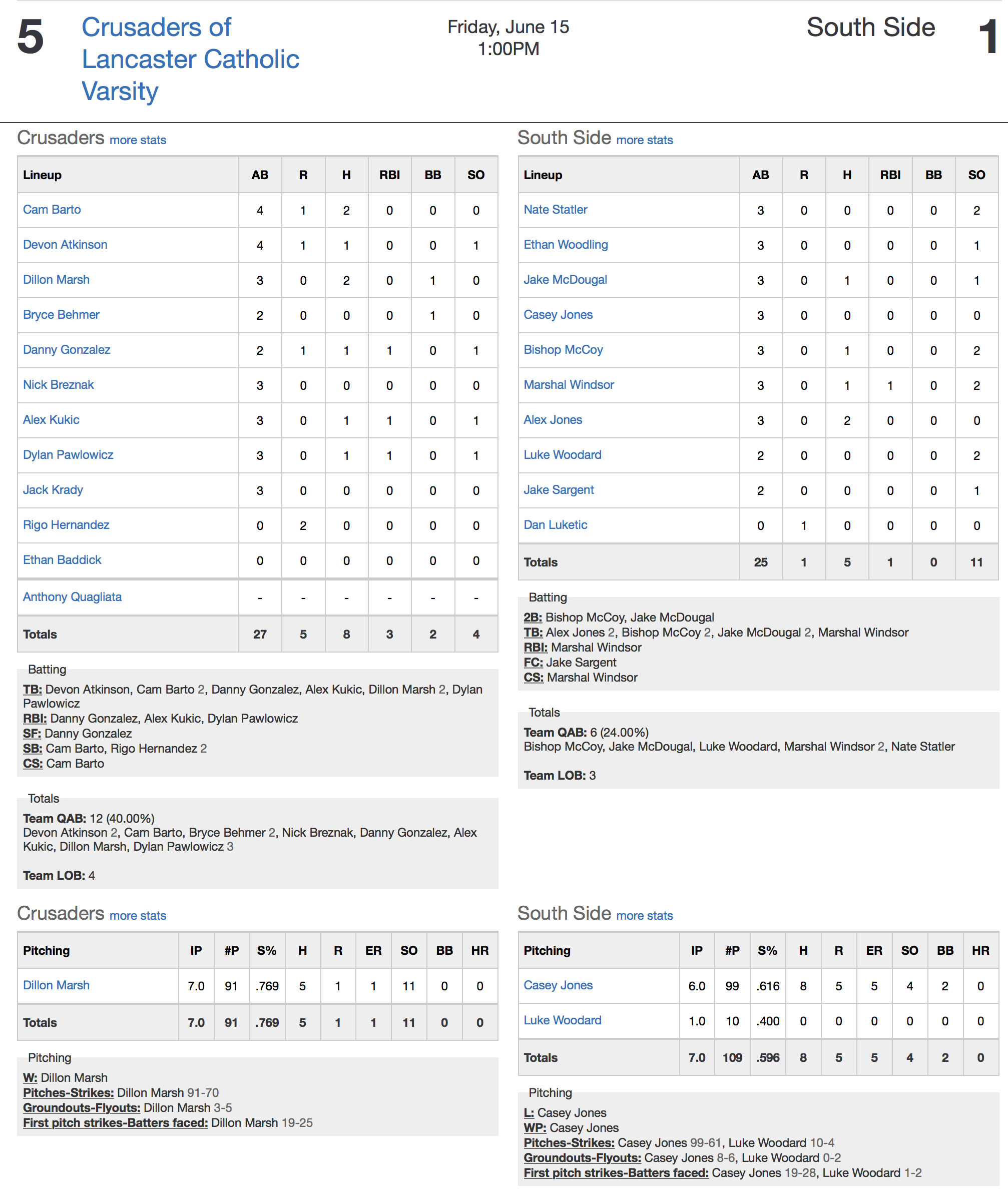 Here's some video of Marsh on the mound from South Side's local news team:
All that glitters is gold, only shooting stars break the mold. Here's LNP's sports page review of game.