The Cedar Crest bowling team had an excellent performance this past weekend during the Pennsylvania State High School Championships at Dutch Lanes in Ephrata.
Two Cedar Crest bowlers received top individual honors and the Cedar Crest Boys won the team competition on Saturday, beating out Lancaster-Lebanon competitor Warwick.
That makes 5 years in a row that a team from the L-L League has won a team title at the PIAA bowling championship tournament. Penn Manor has won the last three boys titles and Etown girls took the PIAA crown in 2015.
In competition Friday, Paige Boyd was named Girls Singles Champion and Kolby Bennett was named Boys Singles Champion. This is Bennett's second year in a row as Boys Singles Champion.
Northern Lebanon bowler Aliza Shirk also placed in Girls Singles, taking fourth.
This is Bennett's second consecutive year winning the state title. He and Boyd both placed first at the Lancaster-Lebanon competition last month as well, the second time for both of them.
During team competition, Boyd and Bennett took the top spots on their respective All-State Teams, with Boyd having the Girls High Game (246) and Bennett the second highest Boys game (277). Another Cedar Crest bowler, Darren Zombro III, also made the Boys All-State Team.
The Cedar Crest bowling team is coached by head coach Jen Wagner and Asst. Coach Rich Boyd.
Both Bennett and Boyd won the L-L League title as well.
Kolby Bennett, Cedar Crest bowling
Bennett won his second individual Lancaster-Lebanon League bowling title in three years, besting Warwick's Isaac Erickson 214-177 in the championship match.
Paige Boyd, Cedar Crest bowling
Boyd won her second straight L-L Girls Bowling Championship on Wednesday, defeating Northern Lebanon's Aliza Shirk by a narrow 203-200 margin in the finals.
2019 PIAA Boys and Girls Singles Champions Paige Boyd and Kolby Bennett pose following the competition. Photo credit: Colleen Bennett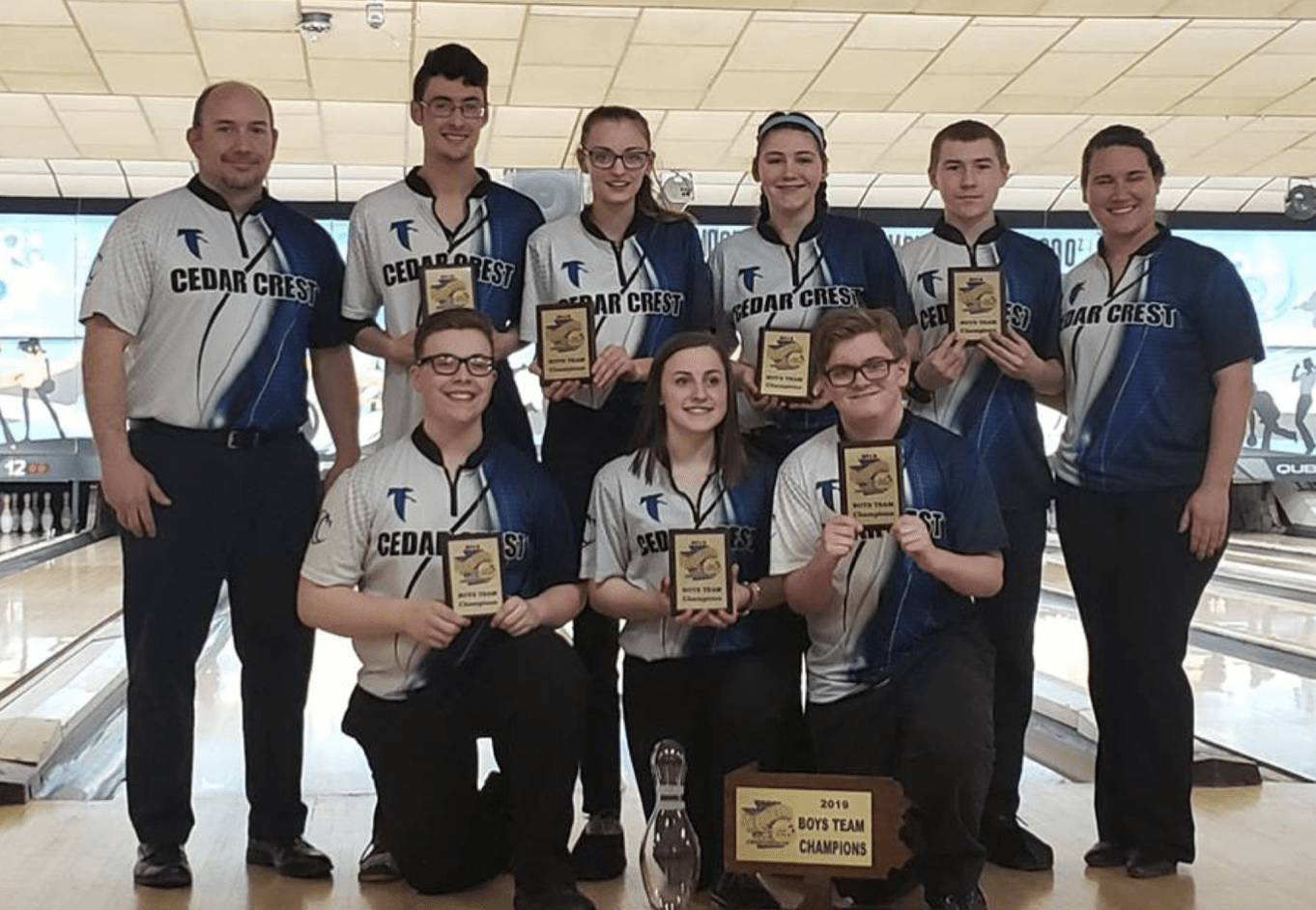 The Cedar Crest bowling team. Back row: Asst. Coach Rich Boyd, Scott Garrett, Rebecca Breidegan, Jadelyn Swisher, Darren Zombro III, head coach Jen Wagner. Front row: Kolby Bennett, Paige Boyd, Connor Firestone. Colleen Bennett