The Penn Manor Comets have won the 2015 L-L League Team Wrestling Championship held at Garden Spot High School this afternoon.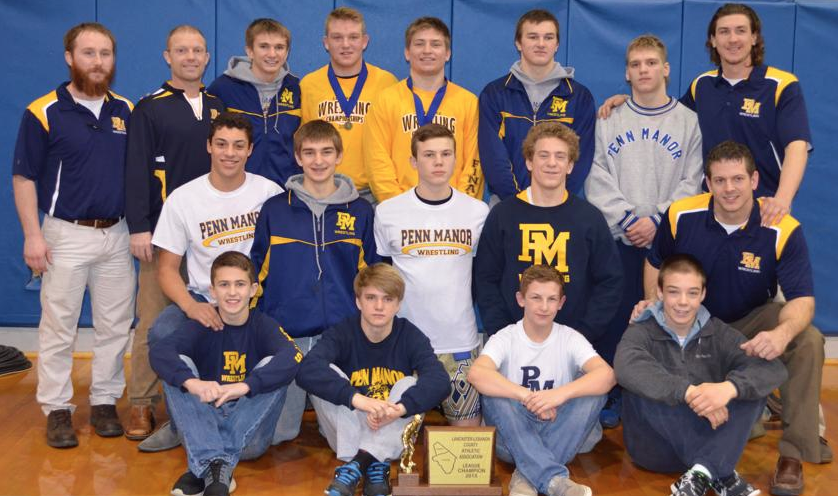 The Comets won their first L-L League wrestling title with 212 points winning three individual championships in the process. The Solanco Golden Mules went four for four in title bouts to finish in second place with 200 team points.
Video highlights will be posted as they are completed. We will showcase all L-L League weight class winners. This will take some time, probably all can be seen by Monday evening.
Here are the final team points:
Here are the individual winners:
Front row l to r:
B.Loperfido, 106 Hemp, D.Schnupp 113 War, G.Charles, 120 Sol, A. Miller 126 Hemp, W.Jennings, 132 Sol, V. Maldonado 138 CV, D. Groff, 145 Sol,
Back row l to r:
L. Ortiz, 152 CV, J. Barley 160 PM, J.Siegrist 170 MC, J. Ortiz, 182 Hemp, A. Leschke 195 PM, Z. Pfeiffer, 220 PM, B. Spiller, 285 Sol
106 Lbs. through 126 Lbs. matches:

132 and 138 Lbs. matches:
145 to 160 Lbs. matches:
170 and 182 Lbs. matches:
195 Lbs. match:
220 Lbs. match:
285 Lbs. match:
Individual scores: