The Cougars entered the tournament as the top AA team in the LL, Cedar Crest the top AAA team. In a weather postponed finals, Lancaster Country Day came out on top 3-2:
Singles
Nile Abadir (LCD) def Rocco Shkrelie (CC) (6-0, 6-0)
Fred Bloom (LCD) def Viseth Meng (CC) (6-0, 6-1)
Carson Weigle (LCD) def Garrett Muraika (CC) (6-2, 6-2)
Doubles
Jozef Shkrelie & Sam Malay (CC) def Gonzalo Diez Villarino & Aryan Kalidindi (LCD) (6-3, 6-4)
Micah Zeisloft & Ben Sheffield (CC) def Chandler King & Christian Hoin (LCD) (6-3, 6-4)
It is an historic win for the Cougars as this marks the first LL Championship since Lancaster Country Day entered the league. The girls lacrosse team has made the league finals, and there have been several section championships, but this is the first big trophy for the display case.
With the win, the Cougars kept their team record perfect. They now head into District Three team action with a first seed and a match against East Pennsboro scheduled for May 5.
Cedar Crest also remains alive in the district team postseason and has a good seed, a No. 2, in Class 3A, where it will take on a familiar foe in Manheim Township, also on May 5.
L-L League Playoff Tennis Bracket: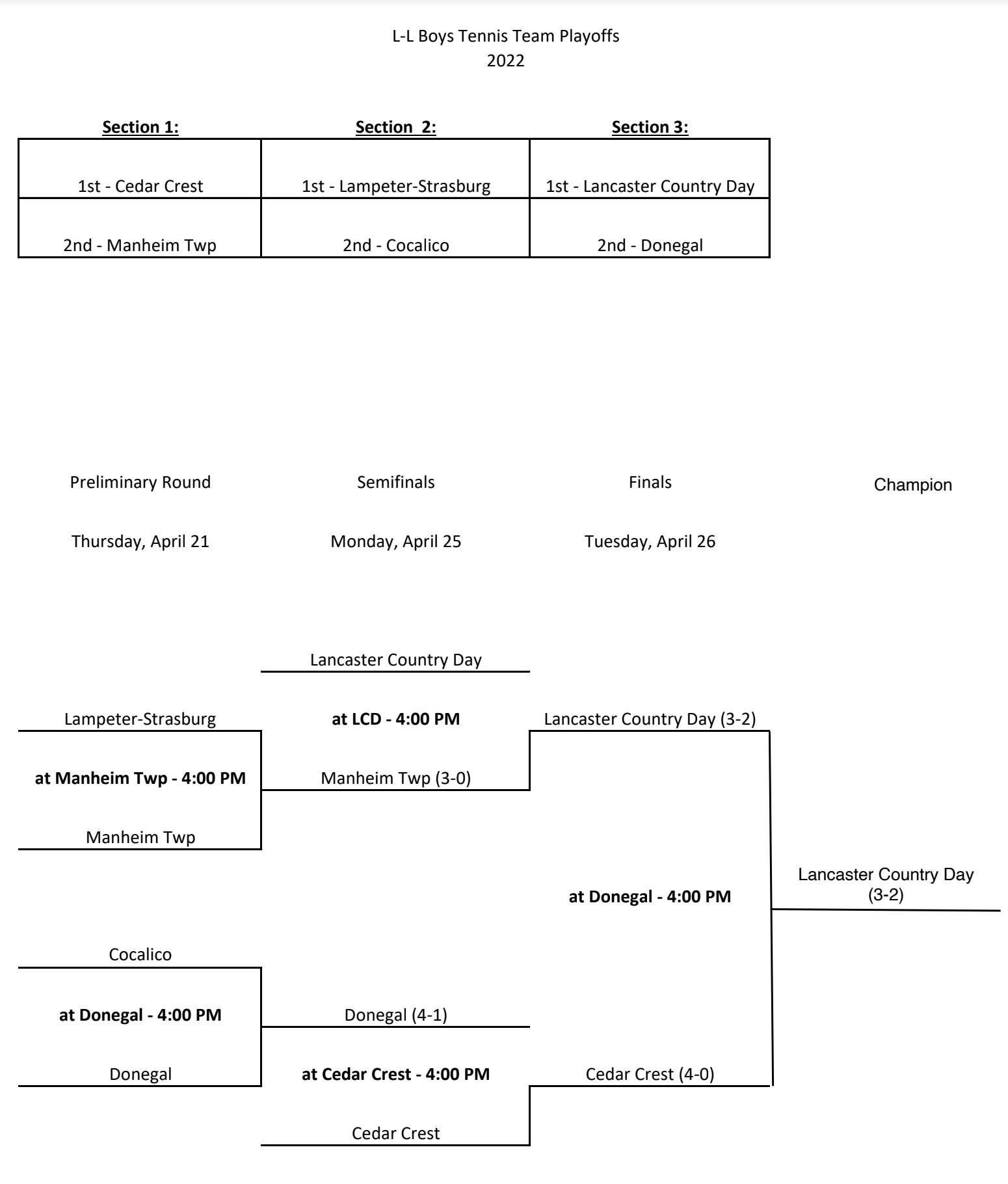 Final League Tennis Standings:
Click photo for highlights: